A Southern Celtic Christmas
Featured Nationally on PBS
"Enchanting." "Resplendent." "Magical." "Exciting and engaging." "A tour de force." "Moving, mystical and joyful." "Hauntingly beautiful." "A masterpiece."
Just a few of the viewer responses to the Emmy Award-winning Southern Celtic Christmas as over the past six years it has been broadcast on PBS stations across the country. Because of its remarkable appeal and impact, American Public Television will continue to distribute the program nationally through 2019. Consult your local PBS station for broadcast times.
Produced in Ireland, in the mountains of Appalachia and on the stage of the Schwartz Center for Performing Arts at Emory University, A Southern Celtic Christmas celebrates in music, dance, poetry, song and story the high spirits and mystical beauty of the Christmas traditions of the Celtic lands and their connection with similar traditions of the American South.
Featured in the show are a number of world class artists, including three Grammy Award-winners: "First Lady of Celtic Song" Moya Brennan, bluegrass and Celtic banjo virtuoso Alison Brown and Riverdance composer Bill Whelan with a stunning choral setting of a seventh century Irish prayer-poem. Also the soulful gospel harmonies of Rising Appalachia, madcap percussionist and fiddler Joe Craven and renowned songster John Doyle in an achingly beautiful ballad that captures the ways in which music and other cultural traditions gather families and communities together at Christmas.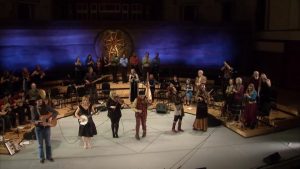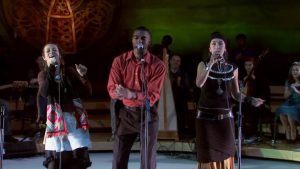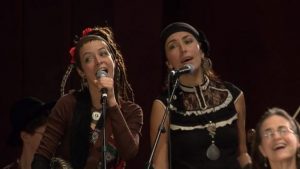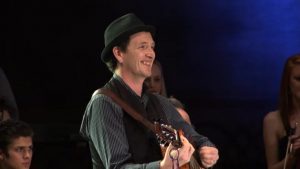 Click below to watch Seamus Heaney's interview concerning "St. Kevin and the Blackbird" as well as James Flannery's interpretation of the poem.
"St. Kevin and the Blackbird"
Of special interest is a rare television appearance by the beloved Nobel Laureate Seamus Heaney in which he talks about the reverence for nature at the heart of Celtic spirituality. Shepherding us on the whole journey is noted Yeats scholar and director, Irish tenor and storyteller James Flannery, whose performance of Heaney's wonder poem, "St Kevin and The Blackbird", one of the highlights of the program.
Another of the distinctive features of the program is wonderful visual imagery ranging from the mist-shrouded mountains of Ireland and Southern Appalachia to the haunting ruins of Glendalough, the sixth century monastic community founded by Saint Kevin. Also stunning images from the stained-glass windows of the renowned Irish artist Harry Clarke.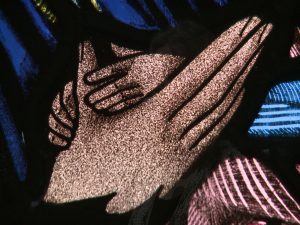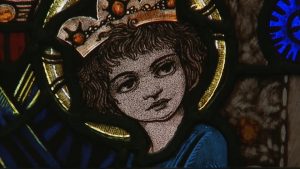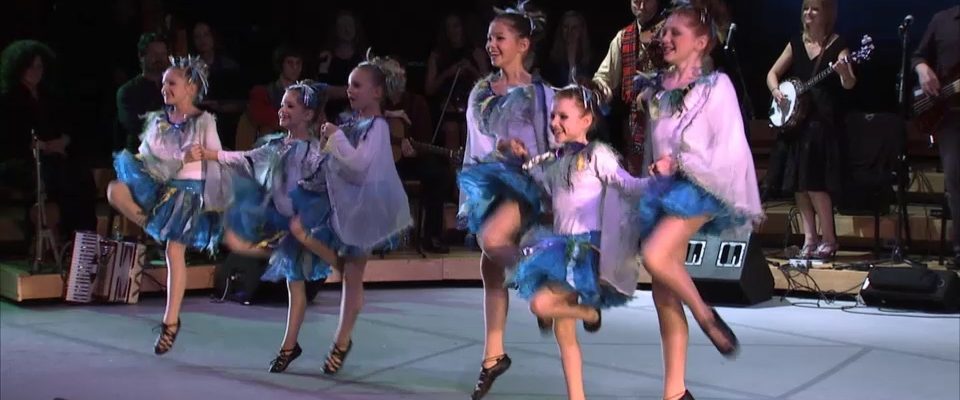 Rising Appalachia and the Elders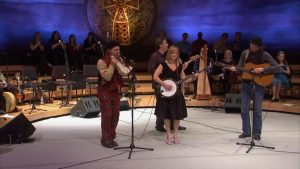 "A rollicking yet reverent time,"
is how the Atlanta Journal-Constitution describes the show. In the words of Bill Overall, Vice President of Television Programming for Georgia Public Broadcasting,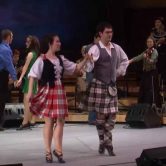 "A Southern Celtic Christmas is a unique program that involves brilliant
performers, inspired storytelling and breathtaking scenery to tell a compelling
story about the rich meaning behind the shared cultural traditions of the Celtic
lands and the American South."