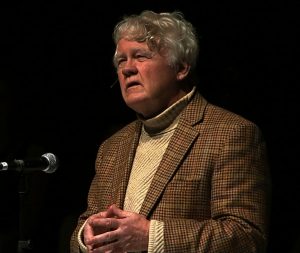 Heart Mysteries: Traditional Love Songs of Ireland

A Book/Recording by James W. Flannery
Heart Mysteries builds upon the critical and popular success of another book/recording by James Flannery, Dear Harp of My Country: The Irish Melodies of Thomas Moore. That work has inspired a major re-evaluation of Moore's huge contribution to Ireland and the world as the first internationally known Irish literary figure. Moore also set in motion the revival of traditional Irish music that today enjoys worldwide popularity. Nobel Laureate Seamus Heaney described Flannery's Moore book/recording as follows:
Flannery's voice as a singer and writer calls us to attention and advances Moore's claims with an ardor that surely would have delighted Moore. He manages to explicate the Irishness and exhibit the melodiousness that have always been central to the allure of Moore's epoch-making collection.
Bill Whelan, Grammy-winning composer of Riverdance, has noted the unique qualities that distinguish Flannery's work as a singer:
Blessed with a beautiful tenor voice and a remarkable feeling for the subtleties of poetic language, James Flannery also has the gift of knowing how to reach into what the Irish call uaigneas an chroi, the secret places of the heart.
Of all the tributes to James Flannery's singing, none has been more moving than the comment of a woman about the experience of playing his Moore recording to comfort herself and her unborn child while pregnant and alone. This is what she wrote:
James Flannery's voice is true balm for the soul. I played his renditions of Thomas Moore's songs while pregnant to attune to the soul-safe peace of my daughter in the womb, and after she was born to soothe her. The endearing peace in his singing comes not simply from the sound of his voice, but from the soulful, sensitive depths he sings from, and this in turn invites our own deepest level of listening and inner response.
Attached is a sampler of highlights from Heart Mysteries beginning with James Flannery's recital of Yeats's "Song of Wandering Aengus" in an arrangement for the ancient wire string Irish harp by Cormac De Barra. The performance replicates the early bardic tradition in which poetry was spoken to harp accompaniment. The poem expresses Yeats's lifelong interest in employing the arts to enable people to discover their own "Unity of Being" and thereby live more intense and abundant lives.
The other songs on the sampler reflect the perfect wedding of poetry and music expressed in the amhrán mór, or "high song" tradition of Gaelic song as well as the different variations on the ever-entrancing theme of love explored in Heart Mysteries. The same subjects are also explored throughout the poetry and plays of Yeats, including romantic love, erotic love, idealized courtly love, love in absence, unrequited love and the bitter anguish of love lost. Those variations on a theme also extend to such peculiarly Irish and powerfully emotive subjects as love of country and love of God.
Heart Mysteries: Traditional Love Songs of Ireland
The lyrics are translations from the Gaelic or, with Yeats, original poems based on traditional sources. The harp arrangements by Janet Harbison and Cormac De Barra are based on traditional airs.
James Flannery is currently working on another book/recording devoted to the poems and plays of Yeats, with an emphasis on their powerful impact when interpreted with a realization of their full performative and musical qualities. The entire series consisting of Dear Harp of My Country, Heart Mysteries and the Yeats volume is titled "The Soul of Ireland in Poetry and Song" and is soon to be released in an audiobook version as well as a print version including the songs.